MSI partners with HTC to release VR One backpack PC
Monica Chen, Taipei; Steve Shen, DIGITIMES [Tuesday 13 September 2016]
Micro-Star International (MSI) has launched the VR One, a virtual reality (VR) backpack PC, in partnership with HTC's Vive team, featuring high-end specifications, specially designed connection cables and light weight.
The HTC-MSI team will showcase the VR backpack PC at the upcoming Tokyo Game Show (TGS) which will be held Sept. 15-18.
HTC and MSI will launch a special sales package to promote the VR One in Japan. Under the program, four models of MSI's gaming notebooks – the 6RF-004JP and 6RF-003JP of its GS63VR series, as well as the 6RF-006JP and 6RF-002JP of the GE62VR series – will be bundled with the HTC Vive and three VR games – The Gallery, Zombie Training Simulator, and Tilt Brush.
HTC and MSI will start accepting pre-orders for the VR One on September 13, and sales of the new package will be also available at MSI's distributors in Japan, including Bic Camera, PC Shop ARC and PC Ones, in early October, according to HTC.

MSI is expected to ship 1.2 million gaming notebooks in 2016 compared to 900,000 units shipped a year earlier. Additionally, MSI also shipped two million graphics cards in the first half of 2016 and is likely to ship four million units for all of the year compared to 3.8 million units shipped in the previous year.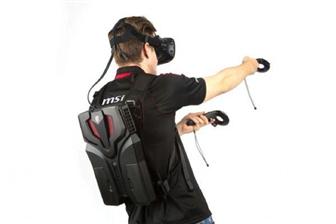 MSI's VR One backpack PC
Photo: Company